Da Vinci Maestro Series 10 - Size 1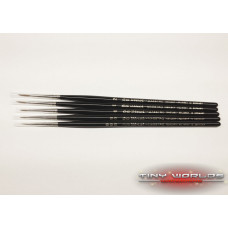 Brand:
Da Vinci
Product Code:
DAV-S10-1
Reward Points:
0
Availability:
In Stock
The DaVinci Series 10 Maestro range of paint brushes are made from only the finest of materials. Featuring Siberian Kolinsky red Sable hair from carefully selected male winter tails, these finest quality brushes maintain a perfect point resulting in faster, superior control and plenty of spring and life. The series 10 have compact black polished handles for enhanced accuracy and grip whilst the ferule has a seamless silver style. Each one of these extraordinary brushes is individually examined to ensure that only the best of the Maestro series reaches the customers hands.
Initially designed for watercolour painting, we have observed these brushes to be among the very best brushes out there for painting miniatures with acrylics, providing a superior quality brush that if cared for correctly will provide many months, if not years of service. As the paints applied in miniature painting is much thinner than that used by traditional canvas artists, we have found watercolour brushes to be far superior in terms of finish to traditional acrylic painter's brushes.