Movement Tray 40 man 5 x 8 (25mm)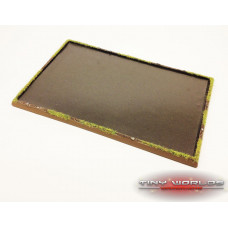 Brand:
Tiny Worlds
Product Code:
TWW-MVT-510
Reward Points:
0
Availability:
In Stock
Price: £6.50

1 40-man resin movement which is tray suitable for many fantasy wargames. Perfect for moving around large units of troops on your tabletop battlefield.
This detailed movement tray holds 40 miniatures on standard 25mm square wargames bases in a 5 x 8 formation and is suitable for many fantasy wargaming armies.
Made from a durable cast polyurethane resin, these movement trays are suppled unpainted and without flock. Painted examples are shown to clarify detail. Individual 20mm bases and miniatures are not included in the sale although matching resin bases are available. Any miniatures shown are in no way affiliated with our products and are for illustrative purposes only. These movement trays are easy to paint with a superb level of detail.