50mm Square Rocky Slate Monster Resin Bases x 3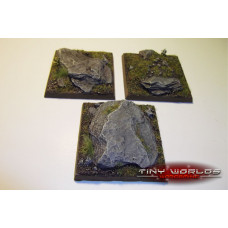 Brand:
Tiny Worlds
Product Code:
TWW-BAS-114
Reward Points:
0
Availability:
In Stock
Price: £4.99

Three 50mm Square Rock / Slate Bases
Set of 3 detailed 50mm square miniature bases suitable for various fantasy wargames. These stunning bases depict a sculpted rock/slate surface and are great for adding that further level of detail to your miniatures, swiftly and easily.
Manufactured from a tough cast polyurethane resin, these bases are provided unpainted and without flocking. Painted samples shown to define detail and show the achievable appearance. The bases are easy to paint with a magnificent level of detail and can be readily combined with bases from many other manufacturers to create a distinctive unit.