20mm Paved Stone / Dungeon Quest Resin Bases x 10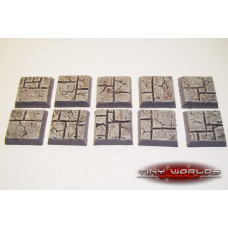 Brand:
Tiny Worlds
Product Code:
TWW-BAS-121
Reward Points:
0
Availability:
In Stock
Price: £4.99

Ten 20mm Square Paved Dungeon Bases
Set of 10 intricateley detailed 20mm square wargaming miniature bases appropriate for a number of fantasy wargames. These stunning bases present a sculpted paved/dungeon pattern and are perfect for adding that extra level of detail to your miniatures, quickly and easily.
Produced from a strong cast polyurethane resin, these bases are sold unpainted and without flocking. Painted examples shown to define detail and display the possible appearance. The bases are straightforward to paint with a superb level of detail and can be easily combined with bases made by most other manufacturers to make a unique unit.