100mm x 50mm Rocky Slate Resin Chariot Display Base 2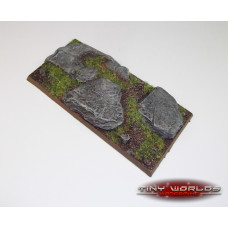 Brand:
Tiny Worlds
Product Code:
TWW-BAS-116B
Reward Points:
0
Availability:
In Stock
Price: £4.99

Rocky Slate Chariot Display Base
One detailed 100mm x 50mm Chariot / Monster miniature base suitable for many fantasy wargames. This beautiful resin base is perfect for adding that extra level of detail to your chariot or miniatures, quickly and easily.
Made from a durable cast polyurethane resin, these bases are suppled unpainted and without flock. Painted examples shown to clarify detail. The bases are easy to paint with a superb level of detail and can be freely mixed with bases from many other manufacturers, including Games Workshop's bases to produce a unique unit.