25mm Round Hive City Industrial Resin Bases (New Version)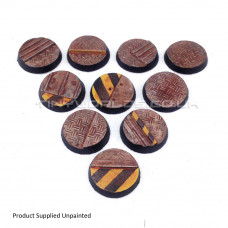 Brand:
Tiny Worlds
Product Code:
TWW-BAS-232
Reward Points:
0
Availability:
In Stock
Price: £4.99

A set of 10 detailed 25mm round resin model bases suitable for many sci-fi wargames. These stunning bases are ideal for adding that extra level of detail to your models, quickly and hassle free. These bases depict a graphic Hive City texture, that depict many industrial features such as chequer plate and steel sheeting. These bases are ideally suited to modern or sci fi warfare.

Made from a durable cast polyurethane resin, these bases are suppled unpainted and without flock. Painted examples shown to clarify detail. The bases are easy to paint with a superb level of detail and can be freely mixed with bases from many other manufacturers to produce a unique unit.