Small Oval Paved Dungeon Resin Bases 60 x 35mm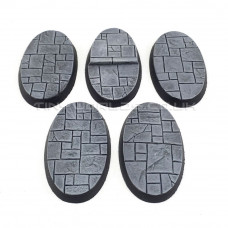 Brand:
Tiny Worlds
Product Code:
TWW-BAS-2414
Reward Points:
0
Availability:
In Stock
Price: £4.99

A set of 5 detailed oval miniature bases featuring a paved stone dungeon texture suitable for numerous fantasy table top wargames. These bases measures approximately 60mm x 35mm and is the perfect way to finish off a great miniature for your army. These are the same size supplied with some GW kits such as most Age of Sigmar cavlary miniatures.
Made from a durable cast polyurethane resin, this base is sold unpainted and without flock. Painted samples shown to clarify detail and present the achievable completed item. The bases are straightforward to paint with a superb level of detail and can be freely mixed with bases made by numerous other manufacturers to create a one-of-a-kind army.